Past Events
Date:

Wednesday, 12 Oct 2022

Time:

12:00 p.m. to 1:30 p.m.

Location:

online

Department:

Muslim Studies Program
Read Event Details

A Conversation with Junaid Mattu, Mayor of Srinigar, India's Sole Muslim-Majority State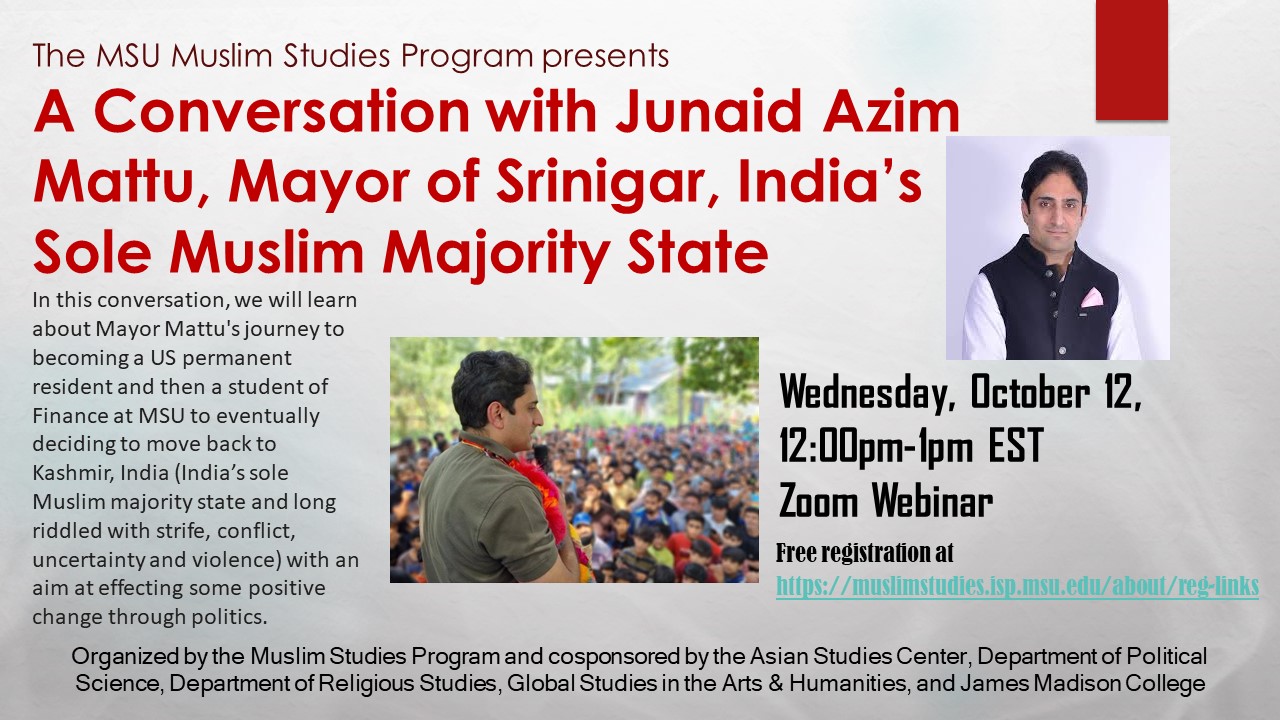 Date:

Sunday, 16 Oct 2022

Time:

12:00 p.m. to 1:30 p.m.

Location:

303 International Center (*This event will be in person and livestreamed on YouTube - look up SerlingSerling

Department:

Asian Studies Center
Read Event Details

Continuation from Sept. 18 event (available on YouTube)
Full title: The Leonard Gilman Symposium on "Jewish perspectives of reproductive rights: Jews, religious liberty, and reproductive freedom in the United States"- Part 2
Dr. Gillian Frank will discuss the Clergy Consultation Service on Abortion and liberal religious repro activism in Michigan from his forthcoming book A Sacred Choice. It centers Jewish history by using Michigan's 1970 prosecution of an Illinois based rabbi (and the attempts to extradite him) for abortion counseling and referral. He uses this story as a jumping off point to broader questions of abortion & pastoral counseling and abortion travel. Gillian Frank is a historian of sexuality and religion and a visiting affiliate fellow at Princeton University's Center for Culture, Society and Religion. He is the author of numerous academic articles on the histories of sexuality, gender and religion (which have appeared in venues like the Journal of the History of Sexuality, American Jewish History, and Gender and History) and public facing scholarship (with bylines in publications including The Washington Post, Time, Jezebel and Slate). He is co-editor of Devotions and Desires: Histories of Sexuality and Religion in the 20th Century United States (UNC Press: 2018). Frank is currently at work on a manuscript called A Sacred Choice: Liberal Religion and the Struggle for Abortion Before Roe v Wade (forthcoming UNC Press). You can listen to his podcast Sexing History--co-hosted with Lauren Gutterman--which explores how the history of sexuality shapes our present, wherever you stream your shows.
Representative Elissa Slotkin is currently in her second term as Congresswoman for Michigan's 8th Congressional District, which includes all of Ingham County, all of Livingston County, and the Northern portion of Oakland County. Rep. Slotkin has spent her career in national service. She served in the Central Intelligence Agency (CIA) to be a Middle East analyst, working alongside the U.S. military during three tours in Iraq as a militia expert. In between her tours in Iraq, Rep. Slotkin held various defense and intelligence positions under President Bush and President Obama, including roles at the White House and the Office of the Director of National Intelligence. In 2011, Rep. Slotkin took a senior position at the Pentagon and, until January 2017, she served as Acting Assistant Secretary of Defense for International Security Affairs.
Attorney General Dana Nessel is a former criminal prosecutor and civil rights attorney, Dana Nessel was sworn in as Michigan's 54th Attorney General on January 1, 2019. She has taken a lead in consumer protection, environmental protection, as well as worked to protect elders from abuse. She is a graduate of the University of Michigan and Wayne State University Law School.
Date:

Tuesday, 18 Oct 2022

Time:

4:30 p.m. to 6:00 p.m.

Location:

303 International Center and online

Department:

Muslim Studies Program
Read Event Details

Matthew Kuiper (Hope College), "Da'wa: Islamic Missionary Thought and Practice"
A research grant from Shenandoah University's Center for Islam in the Contemporary World (CICW) helped Matthew Kuiper, formerly an assistant professor of Religious Studies at Missouri State University, complete his recent book on Islamic da'wa ("inviting" to Islam, or Islamic mission). The book, Da'wa: A Global History of Islamic Missionary Thought and Practice, is set to be published in February 2021 by Edinburgh University Press. Part I, or Chapters 1-4, covers Islamic missionary thought and practice from the Qur'an to roughly 1700 CE. Part II, or Chapters 5-7, covers Islamic missionary thought and practice in early modern and modern times.
Matthew J. Kuiper
Assistant Professor of Religion, Hope College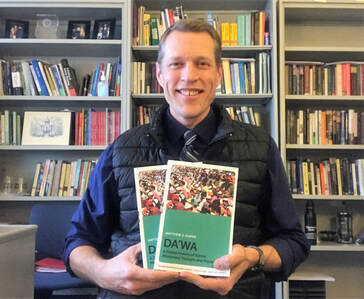 Date:

Friday, 28 Oct 2022

Time:

12:00 p.m. to 7:00 p.m.

Location:

Case Hall 3rd Floor (Spartan Room)

Department:

Asian Studies Center
Read Event Details

In his autobiographic book, Dr. Beilin tells the story of a person who was born in Israel few weeks after its establishment. But beside his book telling the story of his country, it is a suspense book of the man behind two major milestone in Israel and in the Jewish world: the Oslo agreement between the PLO an Israel, and Birthright-Israel project.
Date:

Sunday, 30 Oct 2022

Time:

11:00 a.m. to 1:00 a.m.

Location:

Club Spartan (3rd floor of Case Hall), James Madison College

Department:

Asian Studies Center
Read Event Details

Palestinian and Israeli veteran peace negotiators, researchers, and Middle East policy analysts, will discuss their recent 100 page document "The Holy Land Confederation as a Facilitator for the Two State Solution." They have presented this vision to the UN Secretary General and to the Biden Administration, and are trying to involve Israeli and Palestinian officials and publics. The speakers all believe that the Palestinian-Israeli conflict is soluble, and the best solution for Palestinians and Israelis is the establishment of two states with clear and agreed-upon borders. Most of the contributors hold that a confederal framework may enable both Palestinians and Israelis to break through the current deadlock in the peace process. They believe that this can facilitate a two state solution and have a consequential impact on the culture of peace and on closer cooperation in Israel/Palestine for the good of both peoples.
Yossi Beilin is a politician and researcher. For 24 years he has held senior positions in the Knesset and the Israeli Government. His most latest ministerial role was as Minister of Justice. Taught at Tel Aviv University, Department of Political Science, for 13 years. In 2019-2020 he served as a visiting professor at NYU. In addition to the Oslo process and the Taglit-Birthright project, he initiated the Beilin-Abu Mazen understandings and the Geneva Initiative.
Omar M. Dajani is a professor of Law at the McGeorge School of Law, University of the Pacific. In 1999, he was recruited to serve as a legal adviser to the Palestinian negotiating team in peace talks with Israel, ultimately participating in the summits at Camp David and Taba. He then joined the office of the United Nations Special Coordinator for the Middle East Peace Process (UNSCO), where he worked on peacebuilding initiatives and played a lead role in marshaling and organizing international efforts to support Palestinian legal and political reforms.
Hiba Husseini is the managing partner of the Law Firm of Husseini and Husseini. Under her management the Firm serves a large domestic and international client base on a wide range of legal matters. She practiced law in Washington, DC. Ms. Husseini chairs the Legal Committee to Final Status Negotiations between the Palestinians and Israelis. She has served as legal advisor to the peace process negotiations since 1994. Ms. Husseini participates in various meetings that seek to interject innovative thinking to the hard and complex issues involved in the peace process, especially Jerusalem. possible solutions to the Israeli Palestinian conflict. She is invited to speak on these issues all over the world.
Dr. Saliba Sarsar is professor of Political Science at Monmouth University and a visiting scholarly collaborator at Princeton University in 2022-2023. He is also the President/CEO of the Jerusalem Peace Institute. His teaching and research interests focus on the Middle East, Palestinian-Israeli affairs, Jerusalem, and peacebuilding.
Date:

Tuesday, 01 Nov 2022

Time:

4:00 p.m. to 5:00 p.m.

Location:

Gaynor Entrepreneurship Lab / Minskoff Business Pavilion

Department:

Office for Education Abroad
Read Event Details

Startup Nation: Innovation and Entrepreneurship in Israel
Winter Break
Experience the cultural and business framework of Israel - a global leader in innovation and entrepreneurship.
Information Meeting Scheduled for:
Date: November 1, 2022
Time: 4:00 pm
Room: Gaynor Entrepreneurship Lab / Minskoff Business Pavilion
More Information:
Date:

Tuesday, 01 Nov 2022

Time:

6:30 p.m. to 7:30 p.m.

Location:

Online (Zoom)

Department:

Office for Education Abroad
Read Event Details

Teach in New Zealand the summer before or after your year-long internship!
Program offered for summer 2023.
Information Meeting Scheduled for:
Date: November 1, 2022
Time: 6:30 pm
Zoom: https://msu.zoom.us/j/94470902926 (Meeting ID: 944 7090 2926); Passcode: TeachNZ
More information:
Date:

Monday, 07 Nov 2022

Time:

7:00 p.m. to 9:00 p.m.

Location:

zoom - https://msu.zoom.us/meeting/register/tJMvdO6qqD0tGdAOFx-PQsKwEr0uYA94wBLT%20

Department:

Muslim Studies Program
Read Event Details

Evelyn Azeeza Alsultany, University of Southern California
Evelyn Alsultany is an Associate Professor in the Department of American Studies and Ethnicity.
Alsultany is the author of Arabs and Muslims in the Media: Race and Representation after 9/11 (New York University Press, 2012) and co-editor of Arab and Arab American Feminisms: Gender, Violence, and Belonging (Syracuse University Press, 2011) and Between the Middle East and the Americas: The Cultural Politics of Diaspora (University of Michigan Press, 2013).
She is the guest curator of the Arab American National Museum's online exhibit, Reclaiming Identity: Dismantling Arab Stereotypes (www.arabstereotypes.org). In 2017, she collaborated with colleagues at other universities to create the #IslamophobiaIsRacism Online Syllabus. She teaches courses on media representations, U.S. cultural and racial politics, and Arab and Muslim Americans.
Prior to her position at USC, Alsultany was an Arthur F. Thurnau Professor and an Associate Professor in the Department of American Culture at the University of Michigan where she co-founded and directed of the Arab and Muslim American Studies (AMAS) program.
Professor Alsultany is a leading expert on the history of representations of Arabs and Muslims in the U.S. media. She has served as a consultant for Hollywood studios on how to better represent Muslim characters. She co-authored the Obeidi-Alsultany Test to help Hollywood improve representations of Muslims and has a podcast, "Muslims As Seen on TV." She has published op-eds in The Washington Post, Newsweek, and the Chicago Reporter.
Date:

Wednesday, 16 Nov 2022

Time:

7:00 p.m. to 8:30 p.m.

Location:

Club Spartan (3rd floor of Case Hall), James Madison College

Department:

Asian Studies Center
Read Event Details

by Dr. Yael Aronoff, MSU Professor.
Dr. Yael Aronoff will analyze the 5th Israeli elections in 3 years, looking at the latest results and coalition possibilities and discussing their implications. How will varied possible coalitions shape Israeli domestic and foreign policies? Come join the analysis followed by discussion. Yael Aronoff is the Director of the Serling Institute for Jewish Studies and Modern Israel and is the Serling Chair in Israel Studies at Michigan State University. She is also Professor of International Relations at James Madison College. Dr. Aronoff is the past President of the Association of Israel Studies. Dr. Aronoff's book, The Political Psychology of Israeli Prime Ministers: When Hard Liners Opt for Peace, was published by Cambridge University Press (2014) and she co-edited a book with Dr. Ilan Peleg and Dr. Saliba Sarsar entitled, Continuity and Change in Political Culture: Israel and Beyond Lexington Books (2021). Dr. Aronoff has published in Foreign Policy, Israel Studies, Israel Studies Review, and Political Science Quarterly. Other recent publications include "Prime Minister Benjamin Netanyahu," published in the Handbook of Israeli Democracy, ed. P.R. Kumaraswamy, Palgrave, in summer 2022; "The Zionist Center-Left Opposition to the Netanyahu Governments," in Israel Under Netanyahu: Domestic Politics and Foreign Affairs, ed. Robert Freedman, Routledge 2019 and "Israeli Prime Ministers: Transforming the Victimhood Discourse," in The Victimhood Discourse in Contemporary Israel, Ed. Ilan Peleg. Roman & Littlefield, 2019
Date:

Friday, 18 Nov 2022

Time:

1:00 p.m. to 3:00 p.m.

Location:

Case Hall, 3rd Floor (Club Spartan)

Department:

Office for Education Abroad
Read Event Details

The JMC Education Abroad Fair will be held on Friday, November 18 from 1-3 PM in Club Spartan (Case Hall, 3rd floor). JMC-sponsored education abroad programs will be featured, with special guests from MSU Peace Corps, Boren & Fulbright Scholarships, and the Office for Education Abroad. Opportunities to fund education abroad will also be featured. First-year students through seniors interested in studying abroad, international internships, or international scholarships should attend. The fair will be open house-style so students can drop by between 1:00 – 3:00 PM. We look forward to seeing you!