Back to Events
Gender and Other Identity-Based Mass Violence (Mini-Conference)
Date:

Tuesday, 30 May 2023

Time:

11:00 a.m. to 1:00 p.m.

Location:

Zoom Webinar (see link in description)

Department:

Center for Gender in Global Context
Event Details: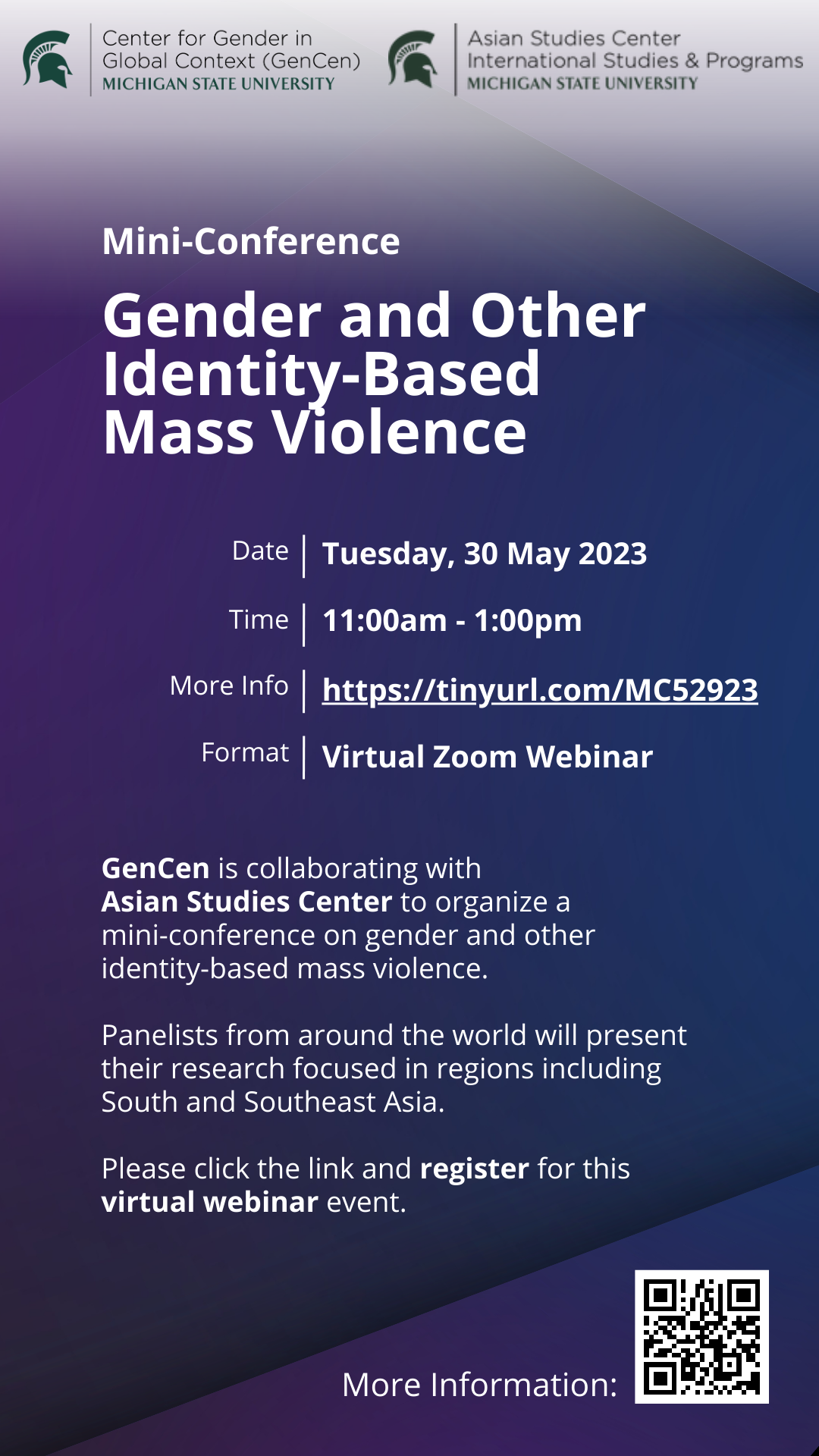 Zoom Registration Link:
https://msu.zoom.us/webinar/register/WN_4YTYITUcSa6cKYDkXXbB4A
Please join us as we present:
Gender and Other Identity-Based Mass Violence (Mini-Conference)
GenCen is collaborating with Asian Studies Center to organize a mini-conference on gender and other identity-based mass violence.
The mini-conference explores the role of gender in mass violence by focusing on how gender interacts with other identities, what effects do these mass violence have on gender relations and dynamics, and what the implications of these mass violence are on the future of gender in the affected communities and for the development of this country or region to move forward.
Panelists from around the world will present on their research focused in regions including South and Southeast Asia.
Each panelist will present their work for 20 minutes followed by audience Q&A for 20 minutes.
Date: Tuesday, May 30, 2023
Time: 11:00 am - 1:00 pm (EST)
Panelists:
Indonesia | Prof. Dr. S.E. Wieringa, The University of Amsterdam
'India-occupied' Kashmir | Dr. Angana P. Chatterji, University of California, Berkeley
Cambodia | Prof. Theresa de Langis, American University of Phnom Penh
Sri Lanka | Prof. Farzana Haniffa, University of Colombo
Bangladesh | Prof. Yasmin Saikia, Arizona State University

Zoom Registration Link:
https://msu.zoom.us/webinar/register/WN_4YTYITUcSa6cKYDkXXbB4A
Gender and Genocide - Mini Conference Titles, Abstracts and Bios
Indonesia
Title: The gendered effects of the Indonesian 1965-6 genocide
Saskia E. Wieringa

Abstract:
In the midst of the Cold War and in a period of rising tensions between conservative (army, Muslim groups) and progressive (mainly the strong Communist Party, PKI) forces, in the night of October 1 2965 six generals and a lieutenant were abducted and killed. The army declared this to be a communist coup attempt and set about to destroy the PKI to its roots. A black propaganda campaign was waged to incite and justify mass violence. The main part of that campaign was the accusation that communist women had castrated and killed the generals. About a million leftist people were murdered and another million detained for many years under inhuman circumstances. Socialist feminism became stigmatized, only state-dominated wives' organizations were allowed to exist. Till now politically active women can be accused of being 'communist'. A form of gender ideology in which women are docile and subordinate is heavily promoted both by state institutions as by majoritarian Muslim groups.
Bio:
Saskia E. Wieringa is a honorary Emeritus Professor at the University of Amsterdam. She is also the co-founder of the Kartini Asia Network. Since the late 1970s she has done research on women's movements, sexual politics and same-sex relations in many parts of the world, particularly in Indonesia. She chairs the International People's Tribunal on the 1965 Crimes Against Humanity in Indonesia and co-organized the Tribunal on that topic, held in November 2015. She wrote and (co-) edited more than 30 books and over 200 articles. The latest books include: (2012 co-edited with Nursyahbani Katjasungkana) The Future of Asian Feminisms; (2013 co-edited with Horacio Sivori) Sexual Politics in the Global South and (2013, co-edited with Maznah Mohamad, Family ambiguity and domestic violence in Asia: concept, law and process. Sussex Academic Publishers; Heteronormativity in Asia (2015 Sussex Academic Press). Propaganda and the genocide in Indonesia; imagined evil (2018 Routledge); co-editor of The International People's Tribunal and the Indonesian genocide (2019 Routledge). Her recent research projects focus on women's same- sex relations in historical perspective in Indonesia and on the post-1965 violence in East Java. In 2023 her latest book, A Political Biography of the Indonesian LBT Movement will be published.

India-occupied Kashmir
Title: Hindu Nationalism and the Erasure of Kashmir
Angana P. Chatterji

Abstract:
Kashmir is a monument to enforced disappearances, gendered and sexualized violence, displacement, torture, extrajudicial executions, psyops and the burial of civilians in unknown, unmarked and mass graves. Impunity laws--including the Armed Forces Special Powers Act, (AFSPA, 1990)--offer de facto immunity to state forces. This presentation maps the gendered instruments of disciplinary power assembled by Modi-led Hindu nationalists following the siege on Kashmir in 2019. The State Human Rights Commission was disbanded with hundreds of cases of enforced disappearances pending before it. This presentation examines contemporary political and social fault lines and structural Islamophobia that normalize, weaponize histories of enforced disappearances, extrajudicial killings and unknown and mass graves via demographic overhaul and land occupation.
Bio:
Angana P. Chatterji, is the Founding Co-chair, Political Conflict, Gender and People's Rights Initiative at the Center for Race and Gender at University of California, Berkeley. A cultural anthropologist and interdisciplinary scholar of South Asia, her work in India since 1989 spans issues of democracy, political violence, gender, law, religion, caste and nationalism. Her foundational work with colleagues in India-ruled Kashmir includes investigations into unknown, unmarked and mass graves. She has served on human rights commissions and offered expert testimony at the United Nations, European Parliament, United Kingdom Parliament, and United States Congress, and has been variously acknowledged and awarded for her work. Her sole and co-authored publications include: Breaking Worlds: Religion, Law, and Nationalism in Majoritarian India (2021), Majoritarian State: How Hindu Nationalism is Changing India (2019); Conflicted Democracies and Gendered Violence: The Right to Heal (2016); Contesting Nation: Gendered Violence in South Asia; Notes on the Postcolonial Present (2012); Kashmir: The Case for Freedom (2011); Violent Gods: Hindu Nationalism in India's Present; Narratives from Orissa (2009); and BURIED EVIDENCE: Unknown, Unmarked and Mass Graves in Kashmir (2009).

Cambodia
Title: Beyond Killing: Gendered Violence and the Khmer Rouge Genocide
Theresa de Langis
Abstract:
The Khmer Rouge regime ruled Cambodia from 1975 through 1979, resulting in one of the worst mass atrocities of human history, with close to a quarter of the population estimated to have perished from starvation, illness, torture and execution. Illuminated by the life-story oral histories of 24 survivors across the spectrum of victimhood - from "new people" targeted for killings to female Khmer Rouge actors - the presentation will put forth the specific nuances of how the genocidal policies of the Khmer Rouge regime impacted women in particular, as well as bring to light the experiences of unique crimes specifically aimed at women, largely ignored in the historiographies and legal treatments of the period. The presentation will also discuss the responses and means of resistance utilized by women to navigate the atrocity and how these both called forth and transformed established gender roles during and after the Khmer Rouge period.
Bio:
Drawing on two decades of teaching, research, and practice within government, the United Nations and academia, Theresa de Langis, PhD is the Director of the Center of Southeast Asian Studies and Professor in Global Affairs and Humanities at American University of Phnom Penh. She completed her doctoral degree at the University of Illinois at Chicago in Literature and Gender Studies (2001) with highest distinction, and her teaching specializes in genocide and gender, especially in cross-disciplinary conversation with law, political science, literature and film. Her research focuses on women's human rights in conflict and post-conflict scenarios, and she is one of 125 individuals worldwide honored by the Gender Justice Initiative for its Legacy Wall at the International Criminal Court. Published in a variety of international scholarly journals and anthologies, her oral histories served as partial basis for Pka Sla Krom Angkar, a classical Khmer Opera created by Sophiline Cheam Shapiro and composed by Sophy Him, which was named an official reparation by the Extraordinary Chambers in the Courts of Cambodia in its verdict for Case 002-02 on forced marriages. Her life-story oral histories of survivors of sexual violence during the Khmer Rouge genocide have been deposited for public access and historical preservation at the Tuol Sleng Genocide Museum in Phnom Penh. She has been a full-time resident of Cambodia since 2012.

Sri Lanka
Title: Political violence in post-independence Sri Lanka: interrogating its impact on women in marginalized communities
Farzana Haniffa
Abstract:
This presentation will draw from a recent study by the Women and Media collective in Sri Lanka entitled Women's agency and the gendered impact of political violence. Drawing from the Sri Lanka component of the study, this presentation will look at the different moments of violence in Sri Lanka: the Southern youth insurrections of 1988, the Ethnic war that extended from the late 1970s until 2009, the anti-Muslim violence led by Buddhist monks after the end of the war in 2009, and finally the Islamic militancy that led to the bombings on Easter Sunday in 2019. The study was designed to foreground the country's troubling history of violence when situating the experiences of women in 2020 (when the research was done). The study found that there was a considerable overlap of these different moments that needed to be accounted for when analyzing the impact of such violence on women. The research illustrated how the violence of the state and its' proxies as well as the violence of those resisting the state worked to further victimize women in poor and marginalized communities across the country.
Bio:
Farzana Haniffa is Professor in the Department of Sociology at the University of Colombo. She obtained her Ph.D in Anthropology from Columbia University, New York. Haniffa has published on the social and political history of Muslims, the anti-Muslim movement, gender politics and on education reform in Sri Lanka. Haniffa was a visiting fellow at the Center for South Asian Studies at the University of Cambridge (2018-19) and visiting research fellow at the Leibniz Zentrum Moderner Orient (ZMO) in Berlin in 2016.
Bangladesh
Title: Beyond Violence in 1971: Resilient Humanity in South Asia
Yasmin Saikia
Abstract:
Telling the history of the 1971 War of Bangladesh from a people's perspective is a conversation with multilayered histories of silences. In Bangladesh, the war is represented as mukti juddha or the liberation of Bengalis from West Pakistani colonization. The official story of the war in Pakistan is muted, denying defeat, while India triumphs in breaking up Pakistan in 1971. The multiple official narratives are unrepresentative of people's memories of the war. People who experienced the nine months of the war, from March to December 1971, tell various stories of suffering, experiences of extreme violence, loss, hunger, and dehumanization. Even now, they continue to ask why ordinary people killed and destroyed one another in the war. How to make sense of the violence? Using the method of oral history, I probe the memories of men and women, perpetrators and survivors of the 1971 war, to ask why the memories of violence are important to know and how they can be a resource for moving forward to come to terms with the bitter lessons of violence and reconvene a human community in South Asia. What would such a human community look like? My research on 1971 focuses on the banished memories of sexual violence in the war. Women's trapped memories cannot find a place of belonging in the state narratives in South Asia. In Bangladesh, the epicenter of the violence, after the war, the fictional construct of birangona (a term coined by Bangladesh's leader Sheikh Mujibur Rahman) served as the symbolic site for dumping memories of sexual violence. The Pakistani and Bengali men who raped and violated women also do not speak for fear of condemnation by family and nation and are not courageous enough to own up to their actions. In turn, the persisting circles of survivors' and perpetrators' silence allow the states to make up their battlefield narratives without anyone taking responsibility for the violence. Survivors and perpetrators are, however, not voiceless and/or without memory. Men and women who shared with me their memories of the war, in their ruined words, told explicit stories of the violence they committed or suffered. Their testimonies made evident that what was lost and regained in the war was a new knowledge of humanity. Survivors' and perpetrators' humanity can be a powerful site for writing a people's history in South Asia to move beyond the horrors of 1971. Highlighting and recognizing survivors' and perpetrators' victimhood, subjectivity, agency, and human transformation, I present a people's history of 1971 that transcends the silences of the official narrative and the indestructible possibility of humanity that survives despite its devastating violence.
Bio:
Yasmin Saikia is a professor of History and is the first holder of the distinguished Hardt-Nickachos Endowed Chair in Peace Studies at Arizona State University, United States. She is the co-director of the Center of Muslim Experience in the US (CME-US) established at Arizona State University in 2022. Yasmin Saikia has authored several monographs, edited volumes, and numerous peer-reviewed articles and book chapters. Her book, Fragmented Memories: Struggling to be Tai-Ahom in India won the Srikanta Datta best book prize in the Social Sciences and Northeast India from the Nehru Memorial, Delhi, India (2005), and Women, War, and the Making of Bangladesh: Remembering 1971 (2011) won the Oral History Association Biennial Award, USA (2013). She is a recipient of multiple international fellowships and grants, including the prestigious National Endowment for the Humanities Collaborative Research grant, Fulbright fellowship, Harry Frank Guggenheim fellowship, and multi-year senior fellowships from the American Institutes of Indian, Bangladesh, as well as, Pakistan Studies. She is the editor-in-chief for Cambridge University Press's new series 'Muslim South Asia' and serves on several editorial boards, and is the Vice-President of the South Asian Muslim Studies Association in the United States. She has held academic appointments at Carleton College, Minnesota (1997-99), UNC-Chapel Hill (199-2010), and visiting positions at the Center for Civilizational Dialogue at the University of Malaysia (2011), and Center for the Study of Gender and Sexuality at American University in Cairo (2006).