MCAA 2013 at Michigan State University
The Asian Studies Center of Michigan State University was pleased to host the 62nd Midwest Conference on Asian Affairs (MCAA) from October 25 - 27, 2013 at MSU's Kellogg Hotel & Conference Center in East Lansing, Michigan.
With nearly 300 participants, this was the largest MCAA ever held. Participants came from across the United States as well as from Canada, England, China, Korea, and Japan. We enjoyed speakers from the Presidential Panel on Friday as well as during the Saturday evening banquet. As a highlight of the conference, AAS President Thongchai Winichakul offered the keynote address and the recipients of the Sidney DeVere Brown and Mikiso Hane prizes for undergraduate papers and the Percy Buchanan prizes for graduate students were recognized. The MCAA thus continued its long tradition of contributing to the professional development of the next generation of scholars and teachers. We received numerous pieces of positive feedback from the professionalism of conference staff to the innovative panels. We would like to thank our sponsors, the program committee, the conference chair, the MCAA officers, the conference staff, our volunteers and most certainly the all of the presenters for their work in planning and carrying out a tremendous endeavor.
---
Call for Papers (Now Closed)
Michigan State University is proud to host the 2013 Midwest Conference on Asian Affairs. Proposals for panels, roundtables, and individual papers from all academic disciplines, on any topic involving Asia, are now being accepted. Panels and individual papers that cross boundaries (national, regional, temporal, linguistic, disciplinary, etc.) are also particularly welcome, as are proposals that suggest new and innovative formats. Graduate students, independent scholars, and K-12 educators and administrators are strongly encouraged to apply. Key points to note are as follows:
Proposal Deadline: the Call for Papers closed on June 25, 2013. We thank the many scholars and students who have submitted paper, panel, roundtable, and diamond proposals. All submitted proposals will be reviewed by a committee during July of 2013. Final decisions will be made by August 1, 2013, and presenters will be notified immediately following this date.
Please note that MCAA does not provide funds for travel. Visit the Grants and Fellowships page on the AAS website for assistance options.
---
MCAA 2013 Registration
The conference was a great success!

Registration Instructions - Please review before you register and refer to them throughout if needed.
1. For technical assistance during the registration process, please contact the help desk at 800-500-1554 and select the NCRS system.
2. The registration fee includes MCAA 2013 Membership dues for $15.
3. Payment may be made using a credit card (Visa, Master Card, Discover and American Express) or debit card from a checking or savings account.
4. You must use the exact address associated with your credit card or bank account, or your registration may not be completed.
5. Note that the Non-Credit Registration System used for registration refers to your selections as a, 'class, a section, an offering, and an item.' The final registration is referred to as an 'order.' Don't be thrown by the language. Follow these steps for a successful registration.
6. MCAA 2013 Refund Policy:
Refunds were available for Early Registrations only and must have been requested no later than September 25, 2013. A $10 administrative fee applied. Early registrations are those made between August 1 and September 15, 2013. This message was included in the NCRS registration system.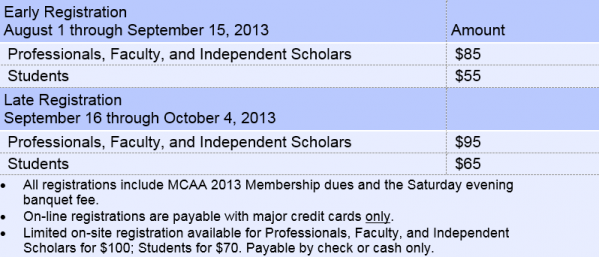 ---
External Sponsors
Association of Asian Affairs (AAS)
Midwest Conference on Asian Affairs (MCAA)
MCAA Presidential Panel
MSU Sponsors
Asian Studies Center
Center for Gender in Global Context
College of Arts and Letters
College of Social Science
Department of Art, Art History, and Design
Department of History
Department of Linguistics & Germanic, Slavic, Asian and African Languages
International Studies and Programs