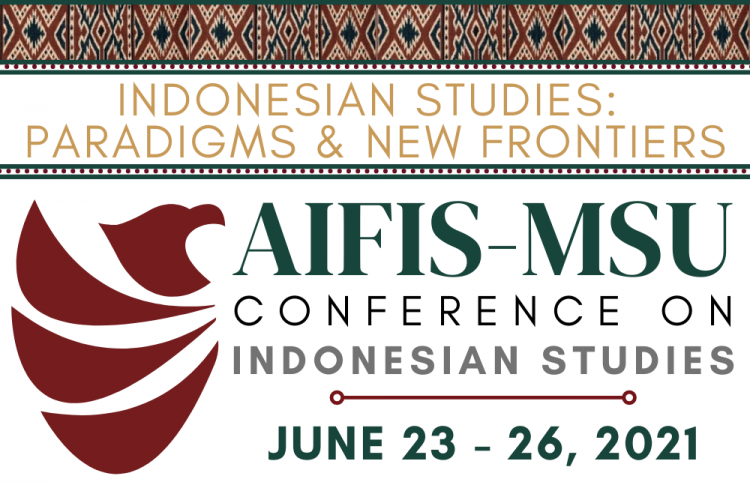 Home
AIFIS-MSU Conference on Indonesian Studies
Co-organized by
 The American Institute for Indonesian Studies & Michigan State University
June 23 - 26, 2021
Virtual 
Important Dates:
Call for Abstract - Submission NEW Deadline: April 14, 2021 (Proposals must be submitted online via the abstract submission portal link below)
Abstract Acceptance Notification & Registration Opens: May 3, 2021
The American Institute for Indonesian Studies (AIFIS), in collaboration with Michigan State University (MSU) Asian Studies Center, will hold the inaugural Conference on Indonesian Studies in 2021. The Conference seeks to expand research dissemination, activities, as well as collaboration on Indonesian studies. The Conference will be held in a virtual format with a goal of building and connecting networks of scholars and academic communities from a range of disciplines—within applied sciences, social sciences, and arts and humanities based in Indonesia and the United States, as well as Asia Pacific and other global contexts.
The 2021 AIFIS-MSU Conference on Indonesian Studies welcomes scholars with academic backgrounds and research expertise in history, culture, anthropology, sociology, language, and arts, and those advancing understandings of the ways that historical, sociocultural, economic, and political contexts shape contemporary and historical issues in Indonesia.
Conference Theme: Indonesian Studies - Paradigms and New Frontiers
The academic study of what is now referred to as Indonesia has several long, interwoven, and at times troubling, histories. What was once an area of inquiry borne from colonial curiosities and necessities has transformed into a broad, multi-disciplinary effort by Western and Indonesian scholars alike to better understand the archipelago's historical, cultural, linguistic, literary, artistic, economic, environmental, and political dimensions, as well as its role in the Indo-Pacific and the world.
The AIFIS-MSU inaugural bilingual conference on Indonesian studies celebrates the academic study of Indonesia and connects Indonesian scholars with Western colleagues. In this spirit of mutual intellectual inquiry, we welcome Indonesianists across disciplines to share their research, consider the state of our field, and to help to chart its future.
Conference Institutional Partners within the AIFIS Consortium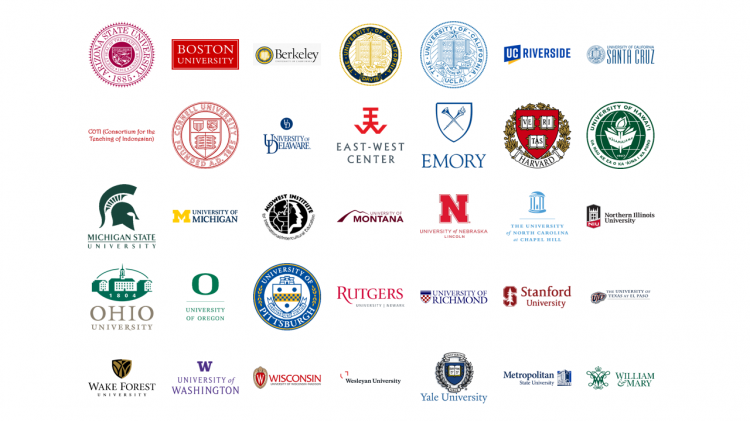 Proposal Submission Information
The conference program committee will accept abstract submissions in both English and Indonesian. Information on how to submit proposals and how to register is forthcoming.
Types of Proposal Submission
Paper Presentation (Individual Submission)
Individuals may submit abstracts for papers. The MSU-AIFIS Conference organizers will form panels based on accepted abstracts submitted by individuals. The panel sessions are 90 minutes long with a maximum of 4 paper presentations (15 minute each), followed by a discussion.  A session chair will moderate and monitor time. Presenters are encouraged to volunteer as session chairs for the panel in which they are presenting. Paper presentation submission includes an abstract of up to 300 words. Each person may only submit one abstract.
Paper Presentation for Flip-Sessions (Individual Submission)
The organizers will similarly form panels for flip-sessions based on accepted proposals submitted by individuals. Presenters whose proposals have been accepted into a flip-session panel must submit a pre-recorded presentation prior to the conference. The length of the presentation should be between 15 to 20 minutes. Flip-sessions during the conference dates are 30 minutes long consisting of a discussion among the audience and the presenters, with the assumption that session participants have watched the pre-recorded presentations prior to attending the session. All presenters in a flip-session panel are highly encouraged to watch pre-recorded presentations of their fellow panelists prior to the flip-session. The organizers may assign session hosts to moderate the discussion, but welcome suggestions from presenters of individuals to serve as hosts. Paper presentation submission for flip-sessions includes an abstract of up to 300 words. Each person may only submit one abstract.
Panel Session (Group Submission)
A group of presenters may propose a panel session of 3 or 4 presentations based on work that share a set of common themes, issues, or research questions. The panel sessions are 90 minutes long. The panel organizers must identify a session chair and a discussant (who must also register for the conference) in the proposal submission. The organizers encourage panel submissions to demonstrate diversity in terms of gender and institution. We especially welcome panels with presenters from different countries. Panel session submission includes a panel abstract of up to 500 words, and individual paper abstracts of up to 300 words.
Refereed Roundtable Session (Group Submission)
Round-table sessions are intended to foster connections and substantive exchanges among a community of researchers and practitioners on a collaborative project, or a particular issue with implications on research and policy. The sessions are 90 minutes long and feature up to 4 presentations on the roundtable topic, as such presentations do not have individual separate titles. Roundtable organizers should identify a session chair who will moderate the discussion. The roundtable session submission includes a brief description of the intended discussion for the roundtable of up to 500 words, and a preliminary list of invited participants (including name, affiliation, and contact information, who must also register for the conference). 
Proposals must be submitted through the online abstract submission portal below.

For more information about the AIFIS-MSU Conference on Indonesian Studies, contact:
American Institute for Indonesian Studies (AIFIS)
The American Institute for Indonesian Studies (AIFIS) is a non-profit (501c3) educational organization incorporated in the United States. It was established with the generous financial support of The Henry Luce Foundation, the U.S. Department of Education and the Department of State, Bureau of Educational and Cultural Affairs in the United States and the Putera Sampoerna Foundation in Indonesia. AIFIS is a consortium of American universities and colleges that have expressed a keen interest in furthering the development of Indonesian studies in the United States. Its main goals are to foster scholarly exchange between Indonesian and U.S. scholars, to promote educational and research efforts by U.S. scholars in Indonesia, and to facilitate visits by Indonesian scholars to the United States.
Email: conference(at)aifis.org
Website: aifis.org
---
Michigan State University Asian Studies Center
The Asian Studies Center at Michigan State University directs one of the largest, most diverse programs of education about Asia in the Midwest. Unlike other programs, the Center is distinguished by its approach to East, Central, North, West, South, and Southeast Asia in the design of its curriculum, focus on faculty research, and outreach activities. Presently, the Center's 220+ affiliated faculty members represent 41 academic departments in all of MSU's 17 colleges.
Email: asiansc(at)msu.edu 
Website: asia.isp.msu.edu
Registration
Conference Registration Fee:
Indonesian participants: Rp. 200,000
International participants:
Annual income below US$ 75,000: US$ 20
Annual income US$ 75,000 and above: US$ 40
Online Registration opens May 3, 2021