Program Summary
In the summer of 2009, fifteen elementary, middle, and high school educators from across Michigan participated in a five-week exploration of contemporary society, education, and culture in Nepal as part of a Fulbright-Hays Group Project Abroad hosted by the Michigan State University Asian Studies Center. The group was extremely diverse: teachers came from urban schools and rural districts, highly populated metropolitan areas such as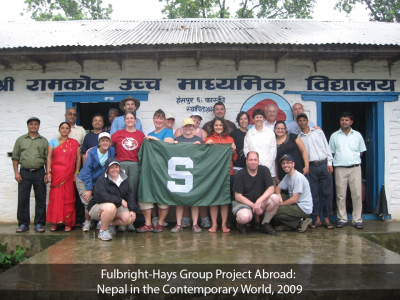 Detroit, Ann Arbor, Grand Rapids, and Flint, and smaller towns including Armada, Mason, Manistique, Grand Marais, and Traverse City. The purpose of this program was to give teachers the opportunity to observe a Nepal's changing civil society and education landscape first-hand.
The 2009 Fulbright participants were able to observe a unique moment in Nepal's history. Transformed by a complete change in government, Nepal, which was the last remaining Hindu kingdom, became the world's newest republic in November 2008. The new democratic government, still in power today, faces many challenges; chief amongst these is the education of Nepal's citizenry. How will the children of Nepal be educated? How will their history be framed, and the new lessons of republican citizenship and human rights be incorporated into the curriculum? How will Nepal combat tough issues such as economic hardship, environmental conservation, resource allocation and management, and cultural prejudices and predilections in the schools?
This program allowed educators from Michigan's diverse school districts the opportunity to experience and observe first-hand the major cultural and governmental transition in Nepal. Through active partnerships with individual elementary, junior high and high schools in Pokhara, an intensive two week homestay program, a daily seminar regimen, weekly evaluation and reflection sessions, and afternoon and weekend field trips, project participants were able to gather immediate and intimate knowledge of Nepalese contemporary culture and society. Returning to United States, the participants will help strengthen diversity awareness and cultural competencies as program participants deploy what they have learned in their schools in Michigan.
The objectives for this Fulbright-Hays Group Project Abroad were:
To provide Michigan educators opportunities to engage in the cultural and educational systems of Nepal
To experientially connect Michigan educators to teachers in Nepal through a two-week teaching partnership experience
To observe and experience through seminars, homestays, and hands-on learning how the transition from monarchy to republic is changing the cultural, educational, and societal values for the people of Nepal
To develop a comprehensive study guide and acquire multimedia educational materials to integrate international and cross-cultural studies into curricula in Michigan and beyond
To provide educators who serve students from Michigan's underserved and minority populations the opportunity to learn about a nation and culture in transition, through the free, four-week overseas experience program, thus enhancing the participant's teaching and curriculum within these schools
As a part of the requirements for their participation, each teacher created a travel journal and two lesson modules for their subject and grade. All of these lesson materials are available on this website for use by any educator free of charge.
This project would not be possible without the assistance of the following sponsors and international partners:
Office of Postsecondary Education, U.S. Department of Education (Washington D.C.)
International Studies & Programs, Michigan State University (East Lansing, MI)
Michigan State Extension Offices
Wayne County Regional Educational Service Agency (Wayne, Michigan)
Kathmandu University (Kathmandu, Nepal)
Tribhuvan University (Pokhara, Nepal)
Ministry of Education & Sports, Nepal National Government (Kathmandu, Nepal)
Private & Boarding Schools Association (Kaski District, Nepal)
Fulbright Nepal Office (Kathmandu, Nepal)
Participants
Amber Hastings
Mason High School
ahasting(at)mason.k12.mi.us
Brian Prill
Burt Township Schools
prill1133(at)gmail.com
Christina Witter
Morainne Elementary School
witterch(at)northville.k12.mi.us
Dan Carlson
Walled Lake N High School
dancarlson(at)wlcsd.org
Elizabeth Cotter
Northview High School
lizcotter(at)gmail.com
Jan Lee
Krause Elementary School
jlee(at)armadaschools.org
Janet Jansen
Ann Arbor Christian School
janetjansen(at)yahoo.com
Karen Nelson
Traverse City Area Public Schools
krnintc(at)chartermi.net
Kevyn Welter
Flushing High School
kevyn.welter(at)flushing.k12.mi.us
Lynne Mark
City of Mason Police Department
MP_Mark(at)ingham.org
Martha Cain
Berkley High School
mcain(at)berkley.k12.mi.us
Nancy Stires
Tappan Middle School
stires(at)aaps.k12.mi.us
Nathan Cholger
Hughes Elementary School
n8o1974(at)yahoo.com
Nese Nasif
Thurston High School
nasine01(at)southredford.net
Shawna Anderson
Manistique Middle and High School
shawna(at)alumni.nmu.edu
Steve Chisnell
Royal Oak High School
schisnell(at)comcast.net
Murari Suvedi
Professor, Department of Community, Agriculture, Recreation and Resource Studies
Michigan State University
suvedi(at)msu.edu
Journey
In April 2009, fifteen teachers from Michigan will be chosen to go to Nepal for one month. What will happen when they are taken out of their environment and immersed in a completely new culture? How will they react when they are faced with new food, new religious practices, and new driving techniques? This wasn't the tagline of the most recent reality TV show; it was the beginning of our Fulbright-Hays Group Project Abroad – Nepal in the Contemporary World.
These were the exact questions we asked when we applied for this opportunity at the beginning of April. The applicants, however, had the easiest role to play. The two leaders of the trip, Murari Suvedi and Lynne Mark, had a far more difficult role. These men had to choose fifteen Michigan teachers out of more than fifty applications. The teachers they chose had to come from rural and urban schools across the state and each teacher had to be committed to teaching about Nepalese culture in his/her Michigan classroom. After plodding through the applications, fifteen adventurous and ambitious teachers were chosen by these two fearless leaders.
Study Guide
UNIT 1
Researching the Country of Nepal(PDF)
Researching a Country Sheet(JPEG)
Nepal: Facts and Figures(JPEG)
Nepal Elevation Zones(JPEG)
Nepal Physical(JPEG)
Nepal Population Distribution 2001(JPEG)
Nepal Proportional Production of Major Cereal Crops 2000/2001(JPEG)
By: Nathan Cholger
Hughes Elementary School
n8o1974(at)yahoo.com
Category:Elementary/Middle School Geography
---
UNIT 2
What is Nepal like?(PDF)
By: Janet Jansen
Ann Arbor Christian School
janetjansen(at)yahoo.com
Category: Middle School Social Studies
---
UNIT 3
What is a Developing Country?(PDF)
By: Janet Jansen
Ann Arbor Christian School
janetjansen(at)yahoo.com
Category: Middle School Social Studies
---
UNIT 4
What is a Nation? Comparing Land, People, and Government, Economy and Culture(PDF)
By: Janet Jansen
Ann Arbor Christian School
janetjansen(at)yahoo.com
Category: Middle School Social Studies
---
UNIT 5
Regions(PDF)
Researching a Region Sheet(JPEG)
By: Nathan Cholger
Hughes Elementary School
n8o1974(at)yahoo.com
Category: Elementary/Middle School Geography
---
UNIT 6
How does Physical Geography Impact Population Density in Nepal?(PDF)
By: Shawna Anderson
Manistique Middle/High School
shawna(at)alumni.nmu.edu
Category: Middle/High School Geography
---
UNIT 7
Safe and Sustained Water for Nepal(PDF)
Nepal Fact Sheet(PDF)
By: Karen Nelson
Traverse City APS
krnintc(at)chartermi.net
Category: Elementary or Middle School Science, with connections to Social Studies, English Language Arts
---
UNIT 8
An Introduction to Nepali Culture(PDF)
Nepal: Top Five Lists (PowerPoint)
By: Dan Carlson 
Walled Lake N High School
dancarlson(at)wlcsd.org
Category: Middle/High School Sociology, World History
---
UNIT 9
Cultural Connections with Nepal(PDF)
By: Jan Lee 
Krause Elementary School
jlee(at)armadaschools.org
Category: Elementary School English, Technology, Social Studies
---
UNIT 10
Educational Equity: A Lesson of what it is and why it is Necessary, through the Example of the Nepal Educational System(PDF)  
By: Jan Lee 
Krause Elementary School
jlee(at)armadaschools.org
Category: Elementary School Social Studies, English
---
UNIT 11 
Three Lessons from Nepal (PowerPoint)
By: Steve Chisnell
Royal Oak High School
schisnell(at)comcast.net
Category: High School Social studies
---
UNIT 12
The Core Democratic Values: A Comparison between the United States of America and Nepal(PDF)
Supplemental notes on the Core Democratic Values and Nepal(PDF)
The Core Democratic Values: The Building Blocks for a Developing Democratic Nation (PowerPoint)
Category: High School Government, Civics, World History and World Cultures
By: Brian Prill
Burt Township Schools
prill1133(at)gmail.com
---
UNIT 13
A Comparison of the Birth of the United States' Democracy to the Birth of Nepal's Democracy(PDF)
Category: Elementary/Middle School Social Studies
By: Christina Witter
Morainne Elementary School
witterch(at)northville.k12.mi.us
---
UNIT 14
Identifying Economic Systems(PDF)
Nepal Country Brief: Economic Overview(PDF)
Economic Systems Review (including Transition)(PDF)
Economic Systems: Analysis and Conclusion(PDF)
Economic Systems: Data(PDF)
Economic Systems Review(PDF)
Nepal Slashes Fuel and Gas Prices(PDF)
Nepal: Data, Analysis & Conclusion(PDF)
Trade Off Between Budget and Inflation(PDF)
Category: High School Economics
By: Nese Nasif
Thurston High School
nasine01(at)southredford.net
---
UNIT 15
How is Nepal Connected to the World?(PDF)           
Category: Middle/High School Geography and Economics
By: Shawna Anderson
Manistique Middle/High School
shawna(at)alumni.nmu.edu
---
UNIT 16
Foreign Policy Simulation: Nepal(PDF)
Nepal Foreign Policy (Powerpoint)
Category: High School Social Studies
By: Liz Cotter, 
Northview High School
lizcotter(at)gmail.com
---
UNIT 17
World Religions: Buddhism(PDF)
Buddhism (PowerPoint)
Category: High School Social Studies
By: Kevyn Welter
Flushing High School
kevyn.welter(at)flushing.k12.mi.us
---
UNIT 18
Comparative Study of Hinduism and Christianity
Hinduism (PowerPoint)
Christianity (PowerPoint)
Comparative Religion Power Point Guided Notes(PDF)
Comparative Religions Brainstorming Sheet(PDF)
Category: High School Social Studies
By: Martha Cain
Berkley High School
mcain(at)berkley.k12.mi.us
---
UNIT 19
Nepali Poetry as a Reflection of Culture(PDF)
Category: High School English – world literature
By: Amber Hastings
Mason High School
ahasting(at)mason.k12.mi.us
---
UNIT 20 
Cultural Sensitivity, Critical Thinking, and Creative Writing Using Nepal-Focused Mentor Texts(PDF)
A Day in the Life of a Nepali 10-Year-Old (PowerPoint)
Where in the World am I? Nepal or Europe? (PowerPoint)
Category: Elementary School Language Arts
By: Christina Witter
Morainne Elementary School
witterch(at)northville.k12.mi.us
---
UNIT 21
Taking Stances – Marriage Practices in Nepali Literature(PDF)
Category: High School English, World Literature
By: Amber Hastings
Mason High School
ahasting(at)mason.k12.mi.u
---
UNIT 22
Creating Myths and Legends from Nepal(PDF)
Nepal Physical Map(PDF)
Nepal Almanac Profile Sheet 1(PDF)
Nepal Almanac Profile Sheet 2(PDF)
Almanac Profiles(PDF)
Mandala and Title Page(PDF)
Writing Workshop: Legend/Myth Assignment(PDF)
Legend/Myth Finishing Up(PDF)
Category: Middle School Language Arts and Social Studies
By: Nancy Stires
Tappan Middle School
stires(at)aaps.k12.mi.us
Photos