In the Fall of 2003, a group of educators from Southeast Michigan traveled to Nepal as Fulbright-Hays Seminars Abroad Fellows. They participated in a series of seminars and field studies that introduced them to and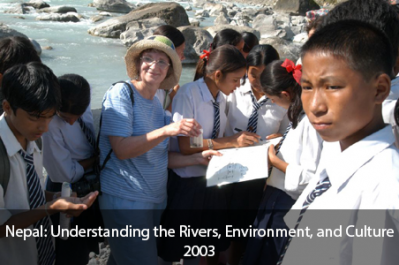 immersed them in Nepali culture. They also were linked with Nepali teachers already engaged with Michigan teachers through a water quality monitoring exchange and were able to visit those teachers in their classrooms and observe students conducting water quality monitoring in the Seti River.
The proposal for the Fulbright-Hays Nepal Seminar Abroad Study Program grew out of water quality monitoring programs for middle schools sponsored by Michigan State University Extension. Extension Agent Patrick Livingston, a former Peace Corps/Nepal volunteer, partnered with Murari Suvedi, MSU Study Abroad Program Coordinator, to link Michigan and Nepali schools in a program to share water quality monitoring and cultural information. The success of that effort led to the Fulbright-Hays proposal to bring Michigan teachers to Nepal to interact with their teacher counterparts and to strengthen international studies for students in both countries.
Michigan teachers were recruited through Intermediate School Districts in Macomb, Wayne, Oakland and Ingham counties. In addition to their participation in cultural and environmental education activities during the three-week study tour, the Michigan teachers committed to contribute educational units that have become this Study Guide. The Study Guide offers teachers a valuable resource to bring Nepal to Michigan classrooms while meeting state standards and benchmarks.
Fulbright-Hays Seminar Abroad Objectives:
-To provide SE Michigan school-teachers opportunities to engage in the cultural, environmental, and educational systems of Nepal.
-To experientially connect SE Michigan school-teachers participating in the Riverside Education Program to their sister schools in Nepal.
-To develop a study guide and acquire multimedia educational material to integrate international studies into the school curriculum for Michigan teachers.
-To involve Michigan school-teachers and their students in an effort to enhance and support education in Nepal.
Carole Beverwyk Assistant
Superintendent, St Johns Public Schools
Marietta Crabtree Shelby
Junior High School, Utica Community Schools
Barbara Deslich
Science Department Chairperson, Lansing School District
Marianne Forman
MacDonald Middle School, East Lansing Public Schools
Madeleine Jones
Gerisch Middle School, Southgate Community Schools
Emalie Karp
Okemos High School, Okemos Public Schools
John Knight
Ronald McNair Technical Center, Detroit Public Schools
Patrick Livingston
Educational Program Consultant (Retired)
Michigan State University Extension

Dennis McCarthy
Grand River Magnet School for Global Studies, Lansing School District

Dan Pagel
Anchor Bay Middle School, North Anchor Bay Public Schools

Gayle Potter
Social Studies Department Chair, Durand Area Schools

Jay Rodman
Office of International Studies and Program, Michigan State University

Murari Suvedi
Professor, Department of Community, Agriculture, Recreation and Resource Studies
Michigan State University
Itinerary and Seminar Schedule
Saturday, October 11, 2003
Depart from Capital City Airport, Lansing and/or Detroit Metro Airport
Sunday, October 12
Arrive Bangkok, Thailand
Monday, October 13
Arrive Kathmandu, Nepal
Walking tour of ancient city of Kathmandu
Tuesday, October 14
Welcome and Introductions -- Dr. Mike Gill, FB Nepal, Executive Director
"Overview of Nepalese Society and Culture" -- Dr. Kailash Pyakuryal
Visit Buddhist Monasteries: Swambhunath and Baudhanath
Wednesday, October 15
"History of Development in Nepal" -- Dr. Mohan M. Sainju
"History and Politics of Nepal" -- Dr. Tri Ratna Manandhar
Visit historical sites: Kathmandu and Patan Durbar Squares
Thursday, October 16
"Environmental Management Policies" -- Dr. Deepak Gyawali
"Condition of Rivers and Lakes in Nepal: Sources/Types of Pollution" -- Mr. Yuban Malla
Visit to ancient city of Bhaktapur
Friday, October 17
Practice of Buddhism and Hinduism in Nepal -- Fr. Locke
Travel to Pokhara
Saturday, October 18
Meeting with partner school teachers participating in Water Quality Program -
Mr. Upendra Subedi and Mr. Patrick Livingston
Tour of select Hindu and Buddhist Shrines in Pokhara
Sunday, October 19
Reflection on the first week
Visit cultural sites in/around Pokhara
Visit a rural village
Monday, October 20
"Overview of School Education System in Nepal" -- Regional Director of Education
"Environmental Education in the Public School" -- District Education Officer, Kaski
Visit schools that participated in Water Quality Education Program
Tuesday, October 21
"Nature of Poverty in Nepal" -- Dr. Chaitanya Mishra Visit partner school for Water Quality Testing Program
Participate in Water Testing Project at Seti River
Nepali music and dance performance
Wednesday, October 22
Sunrise hike to Sarangkot Lookout
"Development in Nepali Context" -- Dr. Chaitanya Mishra
Visit local schools
Nepali music performance
Thursday, October 23
Discussion of individual unit plans
Participants visit partner schools
Friday, October 24
"Public and Private School Issues" -- Regional/District Education Director, Kaski
Visit a nearby private school
Work on individual unit plans
Saturday, October 25
Stay with local host family during observance of Laxmi Puja Festival
Sunday, October 26
Continue host family stay, Gobardhan Puja Festival
Visit Buddhist Monastery
Monday, October 27
Continue host family stay, Bhai Tika Festival
Visit Hindu Temple
Tuesday, October 28
Reflection on the week
Work on unit plans
Nepali music and dance performance
Wednesday, October 29
Program Evaluations and Reflections
Thursday, October 30
Travel to Kathmandu
Friday, October 31
Travel to Bangkok, Thailand
Saturday, November 1
Visit Buddhist Temples/Shrines
Visit the Rose Garden Cultural Resort
Sunday, November 2
Depart Bangkok for U.S.A.
How To Guide
Purpose of the Study Guide
This Study Guide is designed to help educators integrate international studies into their curricula. It provides a profile of Nepal, a series of theme-based, multidisciplinary units and activities developed by teachers for teachers and sources for further study of the topics introduced.
Relation to Benchmarks and MEAP (and other states)
The Nepal Study Guide is directly connected to the Michigan Curriculum Framework. Every unit activity is grounded in a specific standard and benchmark that provide expectations for all students to develop an understanding of other cultures and areas of the world.
Partnering in Teaching
As indicated, the Study Guide is multidisciplinary. It is recommended that teachers consider drawing upon other resources in your school to partner in teaching some of these units, especially those that combine Science and Social Science activities.
Study Guide Format
The Nepal Study Guide consists of 10 units. Each unit has been authored by one of the Fulbright-Hays participating teachers. The content of the units reflects the diverse teaching disciplines and interests of the teachers. Each unit follows a specific format that will provide you with basic information for conducting the activities for your students. The first unit is designed to be used as an introduction to Nepal for your students. The unit format is as follows:
Title
Author
Grade Levels
Subjects
Time Required
Objectives
Benchmarks
Materials Required
Procedures (includes Background)
Assessment (Includes Enrichment)
Resources
---
Nepal: Study Guide Units