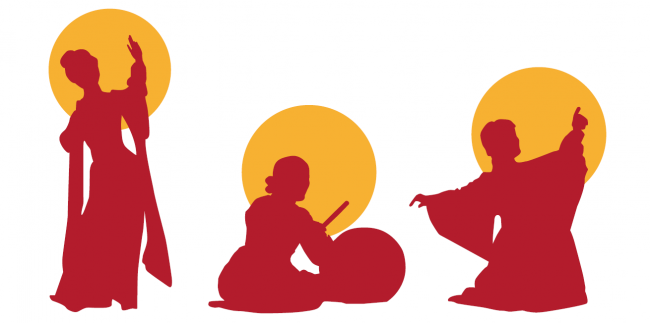 The art of storytelling spans many cultures and generations. Through its spread, many forms of storytelling were created. The three forms performed at MSU were Rakugo, Nanguan, and P'ansori. Each performance was well-received with attendance at or near capacity every night. In addition to performances, several workshops were available to students and the public throughout the week so they could try their hand at learning these traditional performance arts. Even the performers themselves attended each other's workshops, excited to learn more and interact with each other and the audience.
The week of performances and workshops gave the MSU community a greater understanding of Asian culture and art. It also offered a close interaction between the performers and audience that many had not experienced before. Thank you to the many co-sponsors, faculty, and staff who helped put on the event series.
Revisit our Join the Beat flyers here!
Rakugo: Reflections by Students from ASN 291, CHS 366, and JPN 369
"I found the performance very amusing and learned much I did not know about Rakugo through talking with the performers. I was very grateful that we had the opportunity to experience such a style of comedy outside of Japan here at MSU. The performers were very nice and fun to talk with."
"I first learned about Rakugo last year during my Japanese 201 class. The textbook Genki II had a Rakugo story in it and we were made to read it for class. I honestly thought that it wasn't funny and didn't really get the joke. So I actually dreaded going to this Rakugo performance at first. Yet the performers were both extremely charismatic, which gave the stories more life than if you'd read it in a text. I thought that this was very interesting considering that a lot of the world view of Japan does not mark them as people who love humor. The performance was an overwhelmingly positive experience for me and I would love to see those performers come back next year!"
"It is really surprising that they can perform well with English. I know it must be hard for them to remember the English lines. What impressed me is the performer's skill of imitating different kinds of sounds. During the performance, he was acting man drinking the beer. The sound of the process when he drink was just like real! That's amazing. I think the performer must practice a lot to achieve these skills. And the under message of this message is to telling people that if one people always lying, people will think he is still lying even if he telling the truth."
"The workshop helped me realize how important it was to do certain aspects of the rakugo performance. I appreciate how your movements are very important to make people feel they are there in the story. It helped me understand that they have to practice a lot to get performances to be perfect like we saw in the show. We can see how emotion and practice can make or break a performance."
"One of my favorite aspects of both the Rakugo performance and the workshop was how much fun the performers themselves were having; I could tell that whenever they talked about Rakugo or shared aspects of it with us, they truly loved it as an art form. That was really inspiring."
"I think the Rakugo workshop helped me to better understand what a Rakugo actor has to go through, in terms of both practicing and memorizing to performing it in front of an audience. It takes a great deal just to act one role, but multiple roles all in one sitting? Without the addition of a change of clothes to signify a switch of characters, Rakugo actors need to emphasize and exaggerate the difference between the voices and mannerisms of the different characters."
"While I was walking into the theater, I was not sure what to expect from this performance. I had seen Chinese themed musicals and theatre productions before, but only circus-type shows with more flips and exciting acrobatic moves, so I was a little skeptical of what a Nanguan musical performance would be like. Within minutes, I was blown away by the skill needed to play such instruments at such a high level. The world-renowned Taiwanese group Lan Hun Koh knew what they were doing! After all, they are the best of the best at Nanguan style music, and it really showed."
"Learning about each of the instruments and how to play them was my favorite part of the performance and workshop. Each instrument with its own unique sound and way to play--it really shows how much time and effort is put into making the beautiful Nanguan music. I was especially impressed with the dongxiao, or the vertical bamboo flute, played by Master Kuei An Yeh, one of the very best in the world at this craft. He played so beautifully and you could really tell how much his culture means to him. He performed with such passion. Another instrument I really enjoyed was the paiban, or the wooden clappers. I was given the opportunity to try them out and they may look easy to use, but they were not easy. You must hold two of them in each hand and clap them together by moving your fingers like you are making a fist with your hand. They help provide the beat of the music which helps the other performers in the group get in a rhythm to play the music as well as they can."
"It was a real special experience seeing the two Nanguan opera performances. While it may be difficult to understand what they are saying at first, the bodily movements of their arms, hands, and legs were beautiful. At the workshop, I was given the chance to learn a series of lyrics and movements from the operas, and that just made me appreciate the performers' skills even more. The performers made it look effortless but it was far from easy. Mixing those bodily movements with background music and timing them perfectly take a lot of skill and practice."
"This was my first experience with Chinese opera, and it was quite enlightening. When I picture an opera, I initially think of a western style opera, with Italian renaissance roots. Chinese opera is extremely different; from its history to the music to its style and form. Chinese opera was generally written for the common people, while western opera is more for the elite and noble. While the specific Nanguan troupe we saw got its name from a more elite history‒from being invited to play for the emperor‒Nanguan style opera is actually derived from and inspired by string puppetry. This is very evident in the movement of the actors who almost appear to have strings tied to their limbs. This was actually how the movement was described to us by the troupe members themselves. Men's movement was more exaggerated, while women's was more subtle, almost shuffling. The gestures that are used by the actors are very specific to meaning as well."
"The ways the actors would portray different actions was very interesting. The women would hold their skirt with their left hand and would hold their right hands up if they were walking up the stairs or down if they were walking down stairs. Finally, they would turn their heads back to look at all the steps and make sure they made it. This part seemed the oddest to me because I rarely look back when I'm climbing up stairs, if anything I would be looking down at my feet in front of me. Also I noticed the way they would shuffle their feet to show that they were enjoying something. In 'Enjoying the Flowers' the women would move the heels and balls of their feet together and apart to show that they were enjoying the flowers. Additionally, the women would look up and down before they would walk in a door to make sure they would not bump their heads and that they wouldn't trip on the way in. The women would also very rhythmically move their hands to show that they were putting on makeup, synching their waists, and aligning their skirts."
"What I did not expect was how much I enjoyed the opera. The first opera excerpt, 'I Push Away the Pillow,' was heartbreaking and had a theme that could be expressed in any culture. It was easy to empathize with the young maid whose husband had left, stealing her youth and leaving her sad and lonely. The second opera excerpt, 'Enjoying the Flowers,' was another sad love story. It portrayed a young Chinese woman who seemed restrained by her elevated status and an arranged marriage. The expressive hand movements and different steps were well choreographed and told the story. It was easy to see by their movements which of the different characters was being portrayed. The maid was much less stilted in her movements than the lady with social status, and seemed almost carefree. Some of their expressions and movements on stage seemed to resemble a mime. The third opera excerpt, 'Withholding the Umbrella,' is about a frustrated young suitor who has unsuccessfully tried to court a young maiden, nearly giving up until he is convinced by a young maid to stay. This story was portrayed by what seemed like a beautiful dance. As the suitor tried to take his umbrella and leave the discourse over the umbrella is lovely, but almost comical as well."